The Rising Star Award
An award of £1500 

donated by Mitch Jenkins 

to help children achieve their dreams!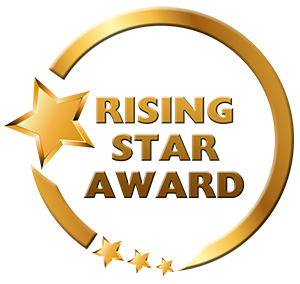 Applications are open for Rising Star Award for 2020!
We are offering a whole year of tuition to one lucky person (aged 6-18) at Sussex Youth Theatre. You will receive tuition worth over £1,500 and benefit from the extensive knowledge of our amazing teachers. This award has been created to commemorate all those wonderful parents and carers who help budding performers achieve their dreams, including Ken and Sheila Jenkins, who were Mitch's biggest supporters and helped guide him throughout his training and career.
Frequently Asked Questions (FAQs)
So what is the Rising Star Award?

Our Rising Star will be awarded to a student who shows talent, dedication and a passion for the arts.

It will financially support the tuition of the student with SYT for a whole year. In return, we ask that the student be an ambassador for SYT and to be fully committed to their training with us.

What does the Rising Star Award include?

The Rising Star will receive…

A full year's free 

Drama and Voice 

tuition at SYT,

A free place on our LAMDA Exam course

Free tuition with our Vocal Group,

Free membership for a year with our management company,

4 workshops and masterclasses

A personalised "

Rising

 

Star

" t-shirt.

All of this is worth over £1500.

How will we choose the Rising Star?

We will select our Rising Star by an application process followed by an audition day.

This award is open to ALL. You don't need to be a member of SYT to benefit! We welcome applications from everyone, if you are within our age range!

Remember our Rising Star award is not just about talent. Your dedication, commitment and passion are just as important to us.
How to apply?

The first step of our selection process to find our Rising Star, is an application form below. If you are successful, you will be asked to audition for us.

Tips for making your application:

Things to include…

Why do you love performing?

What are your aspirations?

Why do you want to be our Rising Star?

Be YOURSELF and really let your personality shine!

What happens next?

Once we have received your application we will select a number of applicants to attend an audition with us. Full details of what is required will be given, so don't panic! You will have plenty of time to prepare.

Please remember that competition will be tough and we can only have one Rising Star so please do not be disheartened if you are not successful at any stage of the audition process.

WHAT DATES DO I NEED TO KEEP FREE?

March 28th, Saturday

AUDITION DAY at The Chatsworth Hotel, Worthing. Auditions start at 9.30am and we will allocate you a time.

Friday 3rd April

The announcement of the winner will be released at 3pm via email, on Facebook and Instagram.To make sure you are connected click the links below and like us.